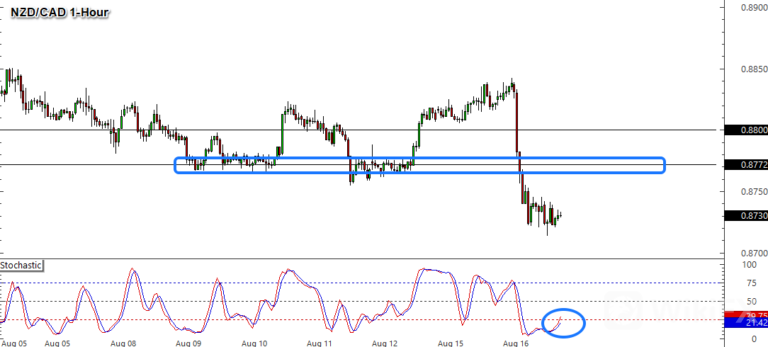 Just when we thought NZD/CAD was about to break the range to the
  upside, the New Zealand government hits Kiwi bulls with news of a
  temporary lockdown to send NZD lower against the rest of the major
  currencies. That brought NZD/CAD back firmly into the control of the
  bears after the market broke below strong support around the 0.8770
  handle.
  Its likely the market will consolidation for the next few hours as
  trader await the latest monetary policy decision from the Reserve Bank
  of New Zealand. Well get that event at 2:00 am GMT, and with New
  Zealand going back into lockdown, the expectations of what the RBNZ will
  say just got a whole lot hazier.
  Will they still hike the official cash rate from 0.25% to 0.50%? Or
  will the see the need to keep easy money conditions going as the
  covid-19 pandemic continues to wreak havoc on the globe?
  Whatever they decide, its likely to spark a strong move in NZD pairs
  in the short-term. And with the current trend favoring the bears in
  NZD/CAD, well be on the lookout for short setup in a scenario where the
  RBNZ decides to hold the official cash rate at 0.25% (more rate hike
  bets likely come down) and the upcoming API crude oil inventory data
  shows a decrease in oil inventory. In that scenario, the area between
  0.8770 – 0.8800 may draw in both technical and fundamental traders
  looking to sell.
  If the RBNZ does hike and is pretty optimistic that the lockdown will
  be short-lived, the Kiwi could rally from current levels given that
  its already given back the speculative gains leading up to the event.
  NZD/CAD will likely find support down to the previous swing low around
  0.8700 and bounce higher, especially if oil prices take a dip on the
  inventory data.