The Dogecoin price has slept through the fireworks exploding around the crypto market. But what happens when DOGE finally wakes up?
  Bitcoin has gained 35% in the last two weeks, Ethereum almost 60%, and Dogecoin is struggling below $0.2000.
  Dogecoin is trading at $0.1998, down $0.0015 (-0.75%).
  For a coin that has made headlines for its volatility this year, DOGE has been remarkably quiet in recent times. Although, despite impressive gains in rival altcoins, Dogecoin remains the 8th-largest cryptocurrency, ahead of Polkadot.
  However, the price has a habit of jumping to life just when you least expect it. And at some stage, DOGE will break out of its narrow trading range. But the question is, in which direction?
  DOGE Price Forecast
  Looking at the daily chart, we see that up until recently, the Dogecoin price was confined to a descending triangle.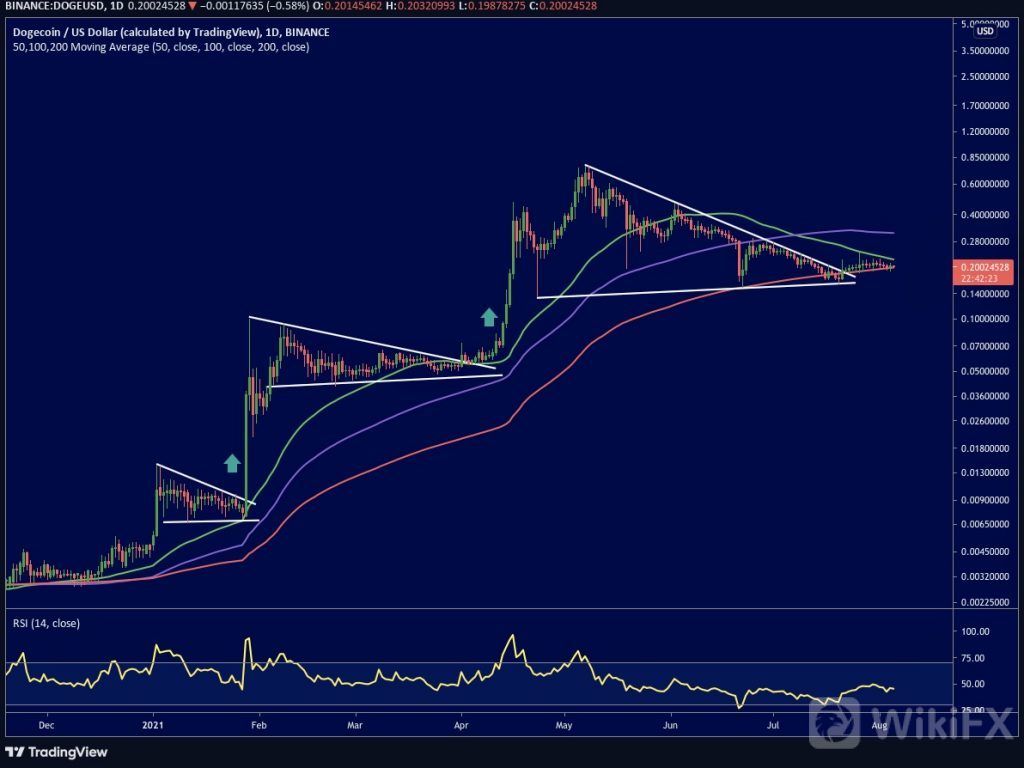 The previous times that DOGE broke out of similar patterns, the price surged to new all-time highs. Although, this time, the reaction has been incredibly muted.
  Furthermore, Dogecoin is now hemmed between the 50-day moving average at $0.2195 and the 200-day at $0.1968.
  This is concerning for the bulls. Considering the impressive price action in other cryptocurrencies, I would have expected DOGE to be materially higher.
  Of course, that may still happen. Depending on which of the two averages is first to give way, the price has the potential for a large move in either direction.
  A close below the 50 DMA could trigger a decline to the April 23rd low of $0.1357.
  On the other, if the Dogecoin price closes above the 200 DMA, the bulls will target the 100-day average at $0.3112.
  Unfortunately, until DOGE starts to make its move, either possibility is likely.