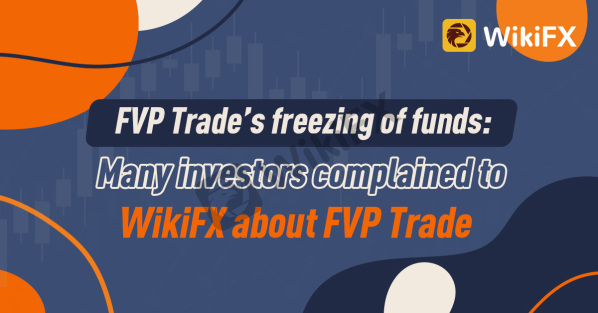 About WikiFX
  WikiFX is an authoritative global inquiry platform providing basic information inquiry and regulatory license inquiry. WikiFX can evaluate the safety and reliability of more than 36,000 global forex brokers. WikiFX gives you a huge advantage while seeking the best forex brokers.
  About WikiFX Exposure function
  On WikiFX, the Exposure consists of feedback from traders. A bad track record of brokers can be checked via Exposure. WikiFXs Exposure function helps you get feedback from other traders and remind you of the risks before it starts.
  But how to use it?
  Step 1: Install WikiFX app.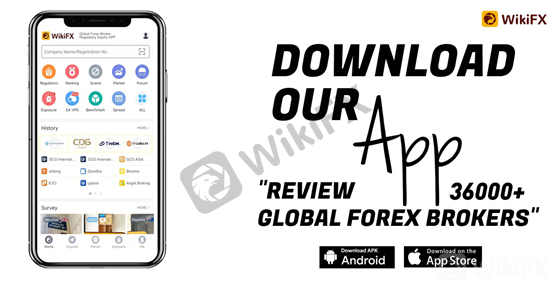 Step 2: Log in to the WikiFX APP and click the "Exposure" section on the homepage. Then you will enter the exposure page.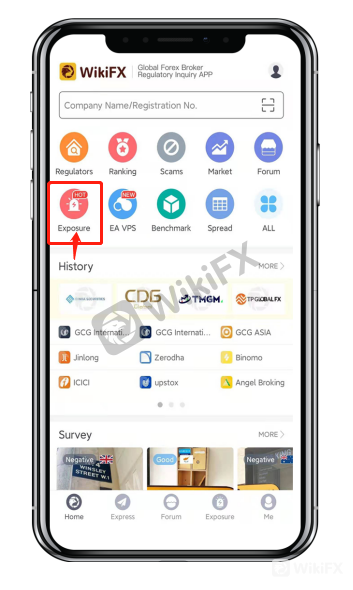 Step 3: Click the "Expose" button to choose the exposure type and the broker you want to report.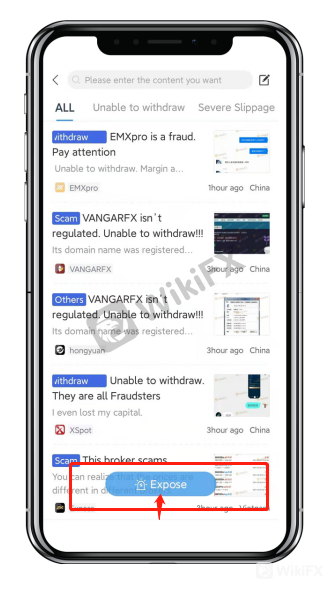 About FVP Trade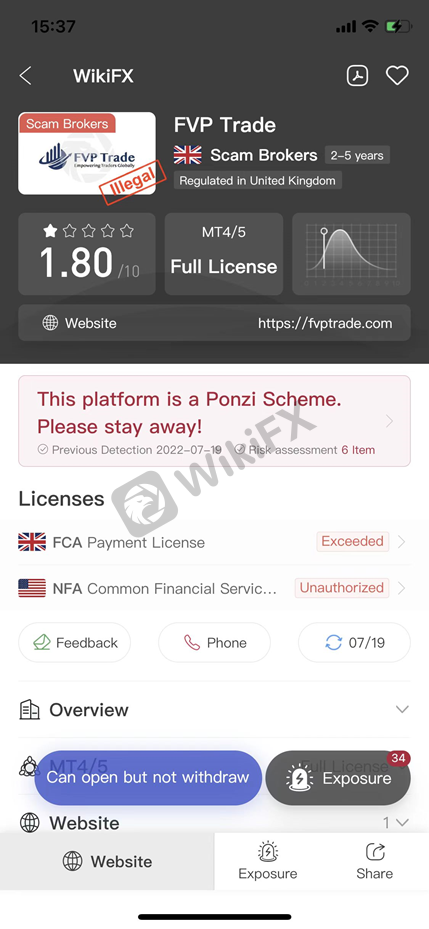 According to its website, FVP Trade claimed itself to be a UK-based online forex broker that provides transparent pricing, fast execution, and advanced charting tools for its traders. However, WikiFX has given this broker a very low rating of 1.8/10. A broker with such a low rating is not trustworthy.
  Regulation
  FVP Trade officially advertises that it is regulated by the FCA. But upon inquiry, its status is only registered, and it has not obtained a forex license certified by the FCA, not to mention the possibility of segregated bank depository funds, and its orders are not hedged against international markets. On its website, it also claimed to be regulated by BVI with license number:1958626. According to WikiFX, this broker has been verified to be illegal and all of its licenses have expired, and it has been listed in WikiFX's Scam Brokers list; Therefore, we consider FVP Trade as an unregulated broker. An unregulated broker is more likely to take your money away fraudulently.
  Ponzi Scheme
  As we know so far, FVP trade is getting involved in a Ponzi Scheme. It is a financial investment scam where the money gathered from the new investors is paid to the existing investors. The scammers also can pay their new investors with deposits from early investors. Therefore, many investors didn't know the truth at the time, and they felt reassured and decided to invest more. This is pyramid scheme fraud, which is extremely concealment, and deceptive. Many investors will eventually lose money after depositing the money since they can no longer find these fraudsters.
  Freezing of Funds
  Recently, FVP Trade announce a statement about the freezing of funds. In this statement, FVP Trade explained the reason why all its current assets which include bank deposits have been frozen. ( "It is under the investigation of international anti-money laundering organizations") .FVP Trade also claimed that it was taking action to deal with the problem. However, whatever the excuse is, many investors can not withdraw the money is an inevitable problem.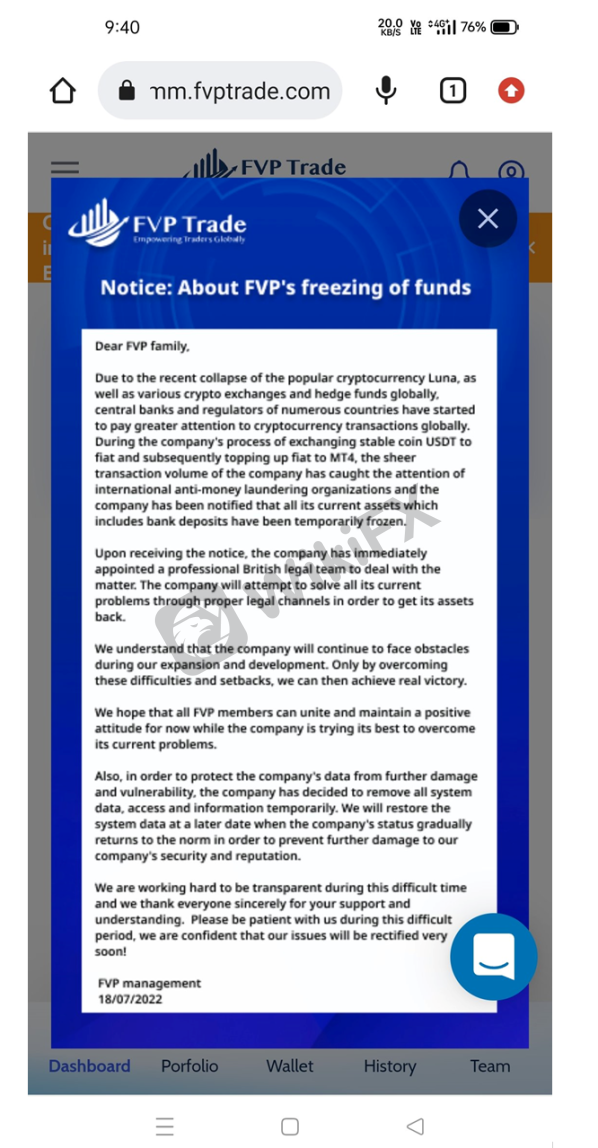 Complaints from victims
  As of July 19, 2022, WikiFX has received 21 complaints against this broker within 3 months. The biggest problem they face is withdrawal refusal as FVP Trade claimed the accounts are frozen. Below are some of them that we want to show you.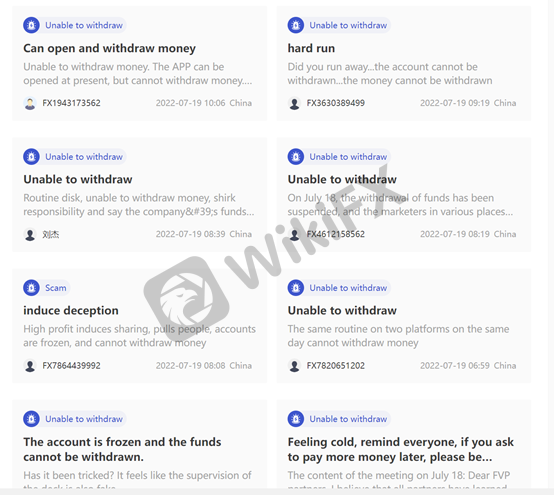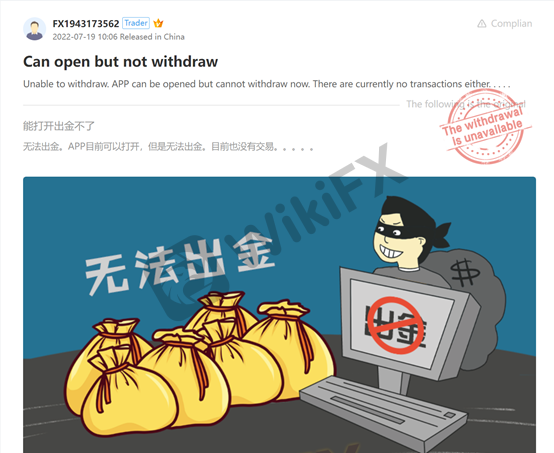 This trader claimed that he can open FVP Trade APP but cannot withdraw.
  This trade from China suspects that this broker abscond. He cannot withdraw his money from his account.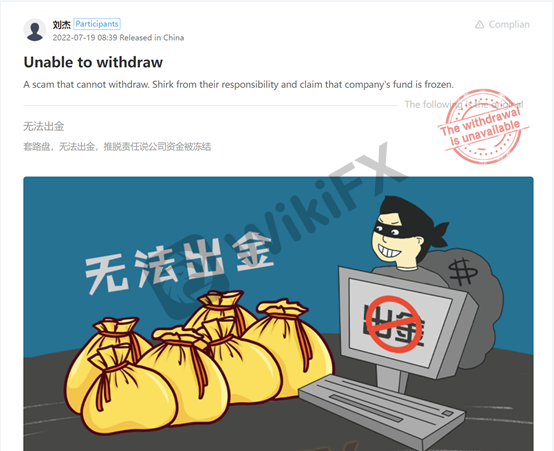 This trader complained the freezing of funds is an excuse for this broker to not return investors money.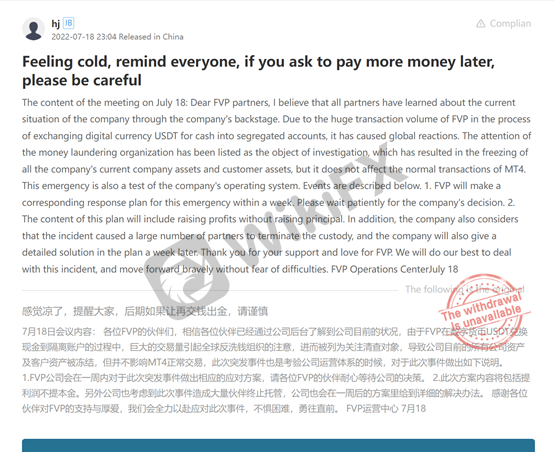 According to the above, this trader Reminds other victims that this broker now refuses the investors' withdrawal request on thbecausefunds have been frozen. If later FVP Trade asks the victim to pay more money, everyone should be aware of the potential risks.
  Conclusion:
  It is no doubt that FVP Trade is a scam getting involved in Ponzi Scheme. As many victims can not withdraw their money from this broker, we advise people to avoid this broker as possible as they can. If you want to know more information about the reliability of certain brokers, you can open our website (https://www.WikiFX.com/en). Or you can download the WikiFX APP to find the most trusted broker for yourself. If you have any problems with this broker, please do not hesitate to contact WikiFX. The global customer service of WikiFX is +234-706 777 7762 on WhatsApp. Or you can call +65-31290538. We are willing and ready to help you out. Stay tuned for more information.