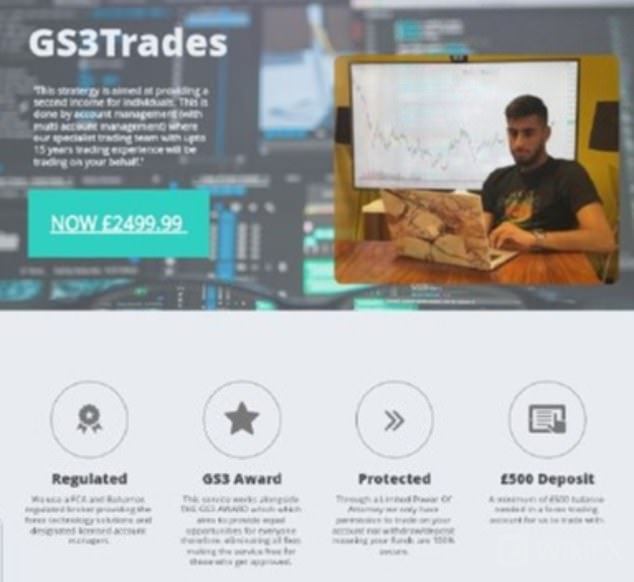 Insta-SCAM: 'Get rich quick' Instagram trader, 20, 'empties accounts of more than 1,000 investors in £3.5m fraud' – three days after UK medical student posed with Ferrari at Eiffel Tower
  EXCLUSIVE: Gurvin Singh, of Plymouth, 'recruited more than 1,000 investors'

  Promised at least 10 per cent profits they could withdraw money any time

  On Christmas Eve they all saw their accounts emptied and can't contact him

  Victims, mostly aged between 18 and 25, used family money and student loans
  A 'get rich quick' Instagram trader scammed more than 1,000 investors by emptying their accounts on Christmas Eve in a suspected £3.5million fraud, it has been claimed.
  Gurvin Singh, 20, is believed to have convinced as many as 1,250 people to join his 'copy trading' scheme with social media pictures of his jet-setting lifestyle.
  Investors say he messaged them claiming he was an authorised Foreign Exchange (Forex) trader, promising guaranteed profits of up to £300 a day and that they could withdraw their money at any time.
  But after a few months of healthy returns, alleged victims claim they saw their trading accounts plummet.
  The medical student from Plymouth 'made excuses about Brexit' and said things would be back to normal by March.
  But on Christmas Eve, hundreds say they saw their funds drop to zero and were unable to contact him.
  Days beforehand Mr Singh posted pictures of himself on Instagram driving a Ferrari through the streets of Paris. He has since removed his page.
  The alleged victims, mostly aged between 18 and 25, claim they have lost thousands of their family's money, part-time wages and student loans.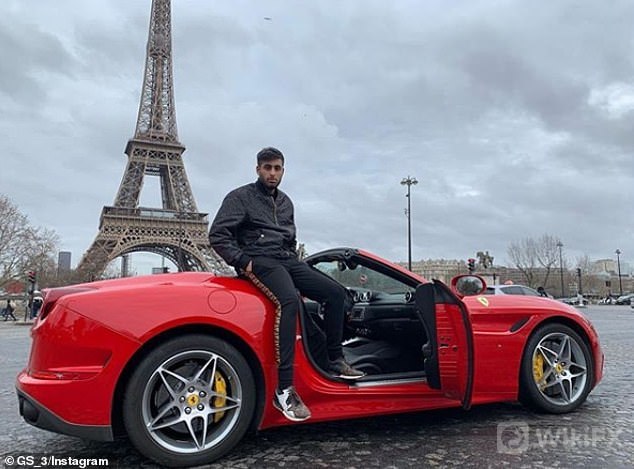 Gurvin Singh is believed to have contacted hundreds of people on social media in the summer of 2019 claiming he was a FCA-registered Forex trader

  Alleged victims claim there were five WhatsApp groups of 250 investors each, which means there could be as many as 1,250 people involved

  Investors say they saw thousands of pounds in their trading accounts for the first few months

  But when profits started to dip, they say Mr Singh made excuses about Brexit and avoided questions about withdrawing funds

  Between December 24 and 26 they say all their money had gone and they could no longer contact him

  He deleted his Instagram pages and was added to the FCA warning list of unauthorised traders on December 31

  Hundreds have now reported him to Action Fraud
  Mr Singh, who used the Instagram name @GS_3 and @gs3trades, was added to the Financial Conduct Authority's warning list of unauthorised Foreign Exchange (Forex) traders on December 31.
  The financial watchdog warns: 'This firm is not authorised by us and is targeting people in the UK.
  'Based upon information we hold, we believe it is carrying on regulated activities which require authorisation.'
  Mr Singh is currently being looked into by the National Fraud Intelligence Bureau (NFIB) after hundreds of victims reported him to Action Fraud.
  MailOnline has been in contact with dozens of young people who claim they signed up to GS3 Trades after being approached by him on Instagram.
  Group chats seen by MailOnline contain 440 alleged victims, but one of them says there were five WhatsApp groups set up by Mr Singh, each with 250 investors, which means there could be as many as 1,250.
  Screenshots of the trading account used by Mr Singh's broker appear to show that a total of £3.527million was taken from his customers.
  They say he claimed to use an FCA-regulated broker called Infinox.
  Alleged victims say they were led to believe their trades were being managed by the FCA-authorised Infinox based in London.
  It has since transpired their trades were being looked after by another firm called Infinox registered in The Bahamas.
  Mr Singh has not responded to MailOnline's requests for comment.
  He previously said that investors had signed a power of attorney with the broker in the Bahamas, who carried out the trading on their behalf.
  What is Forex and how does the market work?
  Forex, or foreign exchange, sees traders across the world buy and sell currencies between each other.
  Just like a holidaymaker would transfer their home currency into the one used at their destination, companies and central banks need to transfer huge amounts of money across borders to buy products or services.
  This is the practical use of foreign exchange, but most transactions are done by traders looking to make a profit.
  The amount of currency traded each day makes the price of each one very volatile, so traders look to buy one when it is cheap and sell when the price rises. .
  Publicly-available apps include live figures and charts to allow traders to identify when is the best time to sell.
  However, Forex trading is very risky, and no amount of skill or expertise can guarantee a profit.
  The 20-year-old claimed he deleted his Instagram for 'matters related to the police' and that the FCA only 'believe' he offered unauthorised services and did not clarify which ones need to be regulated by them.
  Student Kanad Patel, 21, claims he has lost a total of £21,400 after convincing his father and sister to invest in the scheme.
  Mr Patel, who is studying in east London, says he has been left unable to sleep and too worried to revise for his upcoming exams after his trading account was drained.
  He says he spent £2,000 of his own money and was given £10,400 by his father.
  The 21-year-old also later set up a trading account on behalf of his sister who is planning her wedding abroad.
  He told MailOnline: 'I found his page on Instagram. I followed him because I was interested in learning about trading and I was looking for someone to do it for me.
  'He said it was 100 per cent safe and I would get a full refund in 90 days if I wasn't happy.
  'It all seemed to be genuine. He said he had an office in Canary Wharf.'
  After the initial £500 deposit in October, he topped up his account to £9,000.
  He then invested a further £3,400 and opened an account for his sister with £9,000 of her money in it.
  Mr Patel continued: 'I deposited my dad's money. He thought it sounded like a good idea so he put money in my account.
  'I was making £200 or £300 a day. But then my account started showing no profits at all.'