Manufacturing activity across Japan posted the weakest increase seen since five months during July as the nation faces severe challenges from the latest resurgence of COVID-19 cases which are forcing the government to extend restrictions and hamper economic recovery. The au Jibun Bank Flash Japan Manufacturing PMI dipped to a seasonally adjusted 52.2 in the month of July from Junes final reading of 52.4, but managed to hold above the 50-threshold indicating expansion.
  The lower reading was driven by growth in output and new orders falling to the lowest levels seen in six months, on account of the spike in fresh infections even as manufacturers faced challenges to procure raw materials in a timely manner. In addition, Japans manufacturing sector also registered a weaker growth across new export orders, employment and backlogs of work while output and input costs surged higher.
  Meanwhile, Japans services sector contracted at a more severe pace during July, extending its dismal performance into the 18th straight month. The The au Jibun Bank Flash Japan Services PMI fell to a seasonally adjusted reading of 46.4 in July from the final reading of 48 in June.
  The stronger contraction in this sector came on the back of a stronger decline across output, new orders and new export orders. In addition, the services sector also saw employment contract after posting growth in the previous month even as firms experienced higher inflation in input and output costs.
Impact on the JPY
  Despite the disappointing data, the Japanese yen is making gains against the US dollar early on Monday. The market sentiment is driving the safe haven appeal of the currency higher, supporting its recent strengthening as markets worry about the economic impact of the latest wave of the pandemic being driven by the spread of the delta variant of COVID-19 around the world.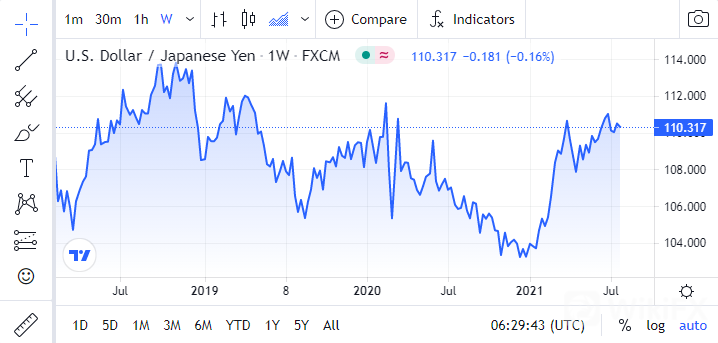 At the time of writing, USD/JPY is trading at 110.33 after experiencing a sharp drop from above the 110.50 levels a few hours ago.