Broker: Kobo Deals Innovation Limited
  Complainant: anonymous
  Cause of complaint: Scam from an illegal Ponzi scheme.
  EVENT RECAP:
  Some months ago, Mary met an agent online and knew the agent works for Kobo Deals Innovation Limited who introduced her to a Ponzi Scheme. Mary was so interested in making 60% return of investment from her capital within some hours. The agent showed her several receipt of people that has been paid from the Ponzi Scheme but unknowing to her, she was in the hand of scammers. What was even more convincing to Mary was that the agent claimed that all deposited are insured by the NDIC (Nigeria Deposit Insurance Cooperation), which means for any unsuccessful transaction in Kobo Deals Innovation Limited, the investors can get a refund immediately. Mary was persuaded at that time and was suggested to get an account with Kobo Deals Innovation Limited.
  However, a personal bank account was provided by the agent for Mary to make a transaction. Mary transferred 50,000NGN in total to that personal account. After Four days, the agent sent withdrawal details to Mary that informed her that, the return on investment on her capital is now 90%, but before Mary cant be able to withdraw, she needs to invest up to 300,000NGN, before can withdraw. Mary was about to send the money when she was brought to notice by her friend who was scammed through this means.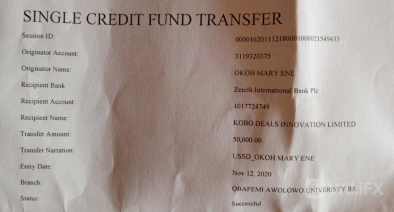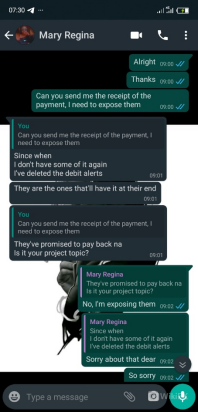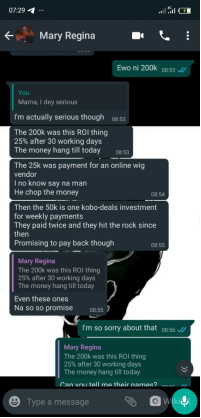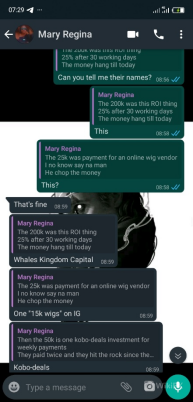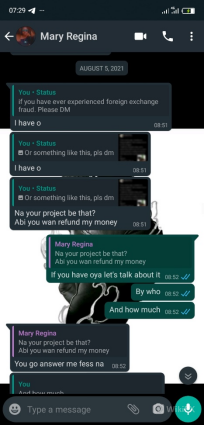 Finally, Mary finds out that the investment company is a scam, but its too late to recover her loss.
  She tried getting her money back, but all was not possible, due to frustration, she deleted all the evidence and chat that can be used against the investment company and moved on.
  Conclusion
  If you understand the dynamics of Ponzi, you will acknowledged that everything about it is just an illusion. You keep on chasing things that just aren't there. Just like MoneyGuru, I don't trust the platform.
  The broker is not a registered broker, he has no license, do not trade with him, unless you want to lose your money.
  The only way you can avoid being scammed is to run from anything that deals with Ponzi Schemes. They make sure they pay you the first time you did it, attracting you to bring in more money, which you won't be able to withdraw or collect. There's no Return on investment for hours, all these are there various ways of scamming people, you need to be aware of their acts. Do not invest in any Ponzi schemes, they will take your hard-earned money from you.
  BEWARE, AND BE CAREFUL OUT THERE!!!!!!!!!