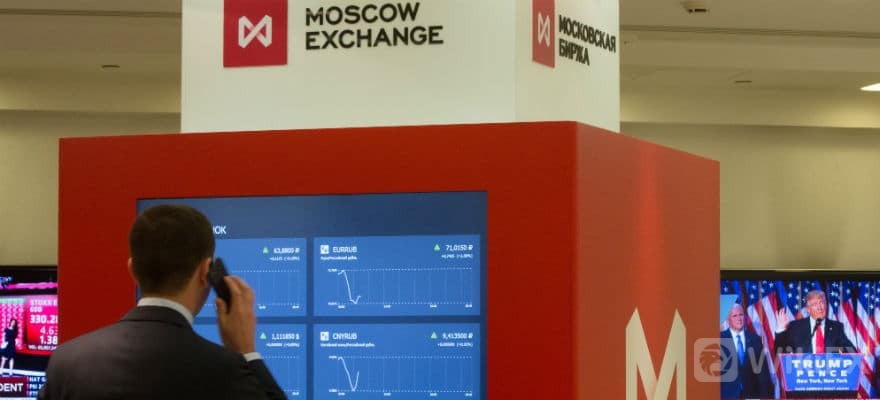 Moscow Exchange Witnesses a 5.9% Jump in Trading Volumes during August 2021
  The derivatives, money, and bond markets were the top performers during August.
  Moscow Exchange (MOEX), the largest exchange group in Russia, published on Thursday its trading volumes for August 2021. According to the metrics, total trading volumes across the exchanges markets rose by 5.9% to RUB 79.7 trillion for the period, which is up compared to the figure seen in the same period last year of RUB 75.3 trillion.
  The major drivers of such performance were the derivatives market, money market, and bond market, accounting for 18.9%, 17.5%, and 15.6%, respectively. In addition, MOEX reported that total trading volume on the equity and bond markets for August grew by 9.8% to RUB 3,8444.6 billion, which is up on a yearly basis compared to August 2020, when the figure was RUB 3,500.3 billion.
  "Trading volume in shares, DRs, and investment fund units rose by 4.8% to RUB 1,941.9 bln (August 2020: RUB 1,853.8 bln). ADTV remained the same versus August 2020, amounting to RUB 88.3 bln. Turnover in corporate, regional, and sovereign bonds grew by 15.6% to RUB 1,902.7 bln (August 2020: RUB 1,646.5 bln). ADTV was RUB 86.5 bln (August 2020: RUB 78.4 bln)," Moscow Exchange highlighted in the metrics report.
  MOEX July Volumes Report
  Furthermore, the derivatives market volumes rose by 18.9% last month, hitting a record figure of RUB 11.8 trillion, which is up compared to the figure witnessed in the same period last year of RUB 9.9 trillion. "Open interest at the end of the month increased by 41.4% to RUB 954.8 bln (August 2020: RUB 675.3 bln). Standardized OTC Derivatives Market volume grew 7.4 times and reached RUB 228.2 bln," MOEX added.
  In Julys report, the Russian exchange pointed out that total trading volumes across its markets reached RUB 87.3 trillion, which is 10.4% higher compared to the same period in 2020. In terms of growth, volumes related to the Derivatives Market jumped by 40.4%.