As trade union leaders gear up to launch industrial action this summer, Royal Mail is ramping up an initiative that could make the role of the British postie increasingly redundant.
  The postal monopoly is to increase its dependency on drones to make deliveries with the creation of 50 new "postal drone routes".
  Over the next three years Royal Mail wants to deploy 200 drones to deliver mail across the UK. The fleet will be expanded to 500 longer-term, the company said.
  Island communities across the Isles of Scilly, Shetland Islands, Orkney Islands and the Hebrides, where mail is typically transported by ferry or plane, will be the first to benefit from the new routes.
  Royal Mail boss Simon Thompson, a former executive at Apple, Ocado and Morrisons, wants to accelerate the companys use of low-carbon transport in the hope that it will be a differentiator to rivals such as Amazon in years to come.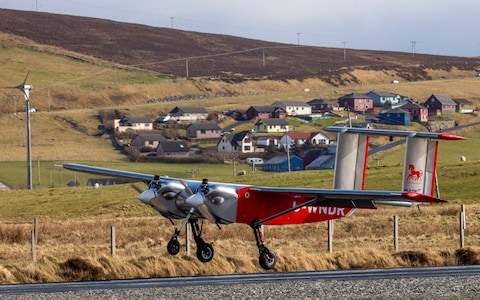 The drones can carry up to 100kg of mail per trip CREDIT: Katielee Arrowsmith
  Mr Thompson is already in talks with Network Rail to dramatically increase transportation of letters and parcels by train in a bid to reduce the dependency on lorries.
  He said: "On time delivery regardless of our customers location or the weather, whilst protecting our environment is our goal. Even though we go everywhere, Royal Mail already has the lowest CO2 emissions per parcel delivered, this initiative will help reduce our emissions even further."
  Royal Mail has already been conducting drone trials over the last 18 months across four regions: the Isle of Mull in Scotland, on the Isles of Scilly off the Cornish coast and between Kirkwall and North Ronaldsay, on the Orkney Islands.
  The Shetland trial saw letters and parcels flow from Tingwall Airport in Lerwick to Unst – a 50-mile flight each way – Britains most northerly inhabited island.
  The twin-engined drones have a 10-metre wingspan, enabling them to fly in difficult weather conditions. They can carry up to 100kg of mail per trip.
  The trials have been bankrolled by taxpayers. The UK Research and Innovation (UKRI), a non-departmental government organisation that provides research and innovation funding, gave the Sustainable Aviation Test Environment (SATE) project a grant of £3.7m.