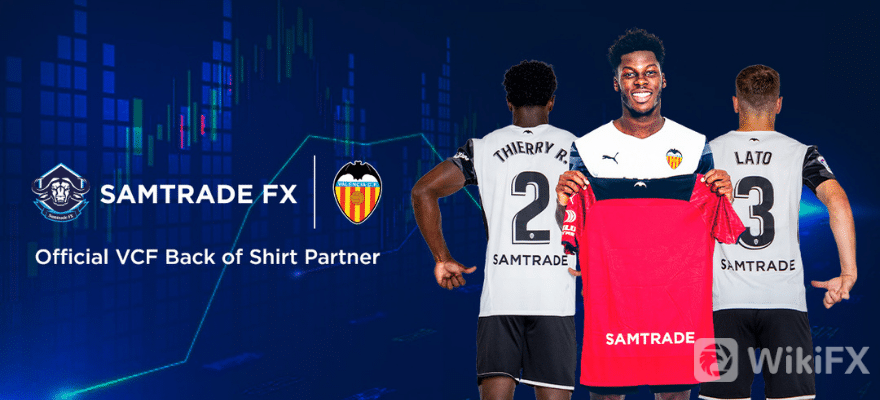 Samtrade FX Taps Spanish Football, Becomes Valencia FC Sponsor
  The brokerage inked a three-year deal with the club, but neither of them disclosed the financials.
  Samtrade FX, an online forex and CFDs broker, has expanded its brand presence in the sports arena with the latest sponsorship deal with Valencia Club de Futbol (Valencia FC), a popular Spanish football club.
  The press release shared with Finance Magnates detailed that the partnership deal between the two has been inked for three years, which will put the logo of the broker on the back of the teams shirts.
  Additionally, under the signed agreements, the broker will get advertising slots on the giant screen and canvas at the Mestalla Stadium and also on the official bus, the training ground in Paterna, and the other events of the club.
  Samtrade FX will further promote its brand on the football clubs website, mobile application and social media channels.
  Sam Goh, founder and CEO at Samtrade FX, said: "This partnership is an exciting opportunity to bring together two brands who enjoy global recognition for their commitment to excellence. We see tremendous similarities between Samtrade FX's lightning-fast and reliable platform and Valencia CF's swift and accurate play on the pitch."
  Sports Promotions Are Effective
  Incorporated in Saint Vincent and the Grenadines, Samtrade is spending heavily on sports sponsorships for a few years now. Apart from the new deal, it is already sponsoring the English football club Cardiff City FC.
  The brokerage is looking at the deal as a strategic move to expand into a wider European market.
  "We are really proud to be the world's first FX brokerage to pay for the sponsorship with Cryptocurrency and appreciate Valencia CF's incredible vision and foresight to accept it," Goh added.
  Anil Murthy, President of Valencia FC, said: "VCF is very happy to be the first La Liga club to sign a sponsorship agreement with Samtrade FX, an award-winning online trading brokerage. This new agreement is in line with our aim to grow VCFs brand and fan base internationally especially in a market as important as Asia."