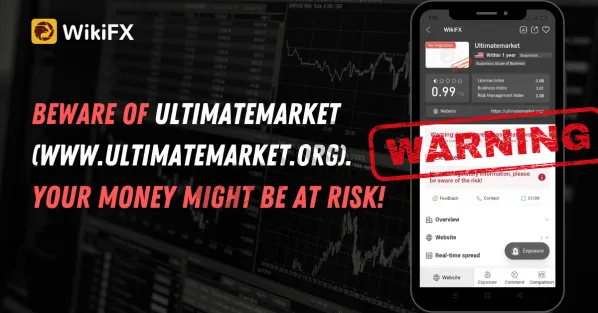 Forex trading is a popular activity that has been growing in recent years. Many people are attracted to the forex market because it is open 24 hours a day, has high liquidity and offers the potential for high returns. However, it is also a high-risk investment activity and can be volatile, so it is important for traders to understand the risks and carefully manage their trades.
  On the other hand, a lot of Forex brokers defraud traders by refusing to process their withdrawal requests or by manipulating the prices at which their trades are executed. These brokers may also make exaggerated claims about the profitability of their trading platforms or investment opportunities, or they may mishandle traders' funds by using them for unauthorized purposes. An example is ULTIMATEMARKET.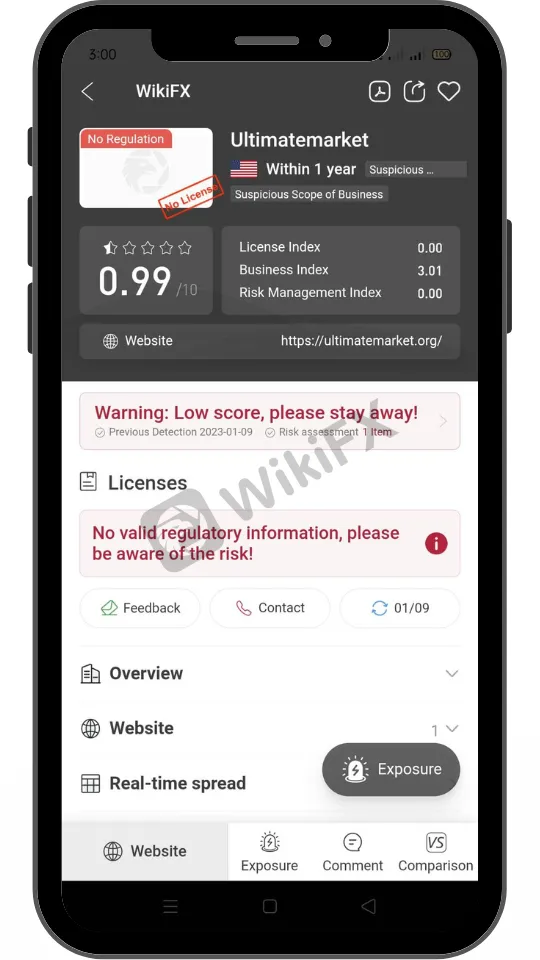 Overview Of ULTIMATEMARKET(www.ultimatemarket.org)
  According to its official website, the firm has made constant steps since 2019 to guarantee that its platform makes online trading and investment accessible to everybody. UltimateMarket has established itself as the world's premier social trading platform by striking a balance between making crucial features accessible to novices and expanding on important elements for more experienced traders.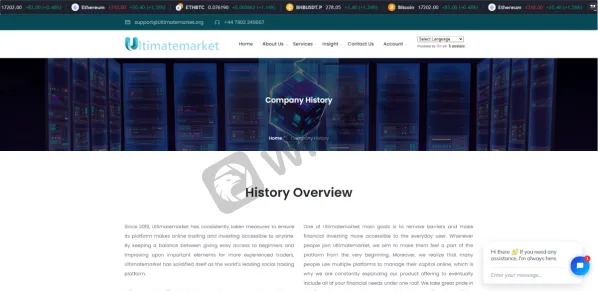 How very encouraging the statement above is to get investors.
  Let's dig deeper to measure their credibility.
  Doubtful Addresses
  According to its official website, www.ultimatemarket.org, ULTIMATEMARKET offers a variety of trading opportunities to its clients. The said company is located at 2 addresses, as stated on the footer of its official website. How hilarious is it!


  Let's check the company's regulatory status.
  According to their official website, the said company has 2 addresses, the first address is 2205 Maplewood St, Bozeman, MT 59718, United States, and the other one is at 2205 PO16 7GZ, Liverpool, UK.
  The National Futures Association (NFA) is a self-regulatory organization for the U.S. derivatives industry, including the futures, options, and swaps markets. However, the said company doesn't appear on NFA's official website.

  On the other hand,
  Also, on the official website of one of the major regulators in the financial and investment industries, the FCA, the same result was found. ULTIMATEMARKET is not registered under FCA regulations. In fact, FCA has issued a statement regarding ULTIMATEMARKET, advising investors to avoid the company because it lacks the authority to conduct financial transactions.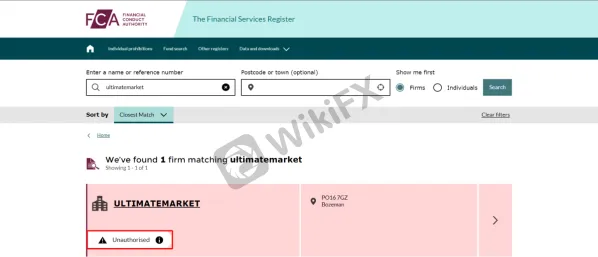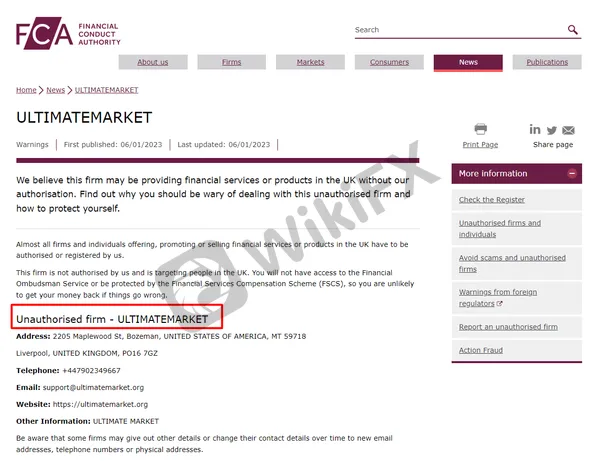 Here are the ways of scamming you should be avoided:
  Offering exaggerated claims about the profitability of their trading platforms or investment opportunities.

  Manipulating the prices at which trades are executed.

  Failing to execute trades or delaying the execution of trades is to the disadvantage of the trader.

  Misusing or mishandling traders' funds.

  Operating without proper regulation or licensing.

  Failing to provide accurate and timely account statements to traders.

  Refusing to process withdrawal requests or delaying the processing of such requests.

  Asking for important information from you such as bank account and etc.

  Final words,

  It's important for traders to be aware of these tactics and to carefully research any forex broker before opening an account with them. Traders should look for brokers that are regulated by reputable organizations and that have a proven track record of honesty and transparency.

  Use WikiFX App more often to avoid landing on fraud brokers. You can also contact WikiFX Support if necessary.

  Stay tuned for more Forex broker reviews.

  Download and install the WikiFX App from the download link below to stay updated on the latest news, even on the go. You can also download the app from the App Store or Google Play Store.

  Download link: https://www.wikifx.com/en/download.html