Square, the payment company owned by Jack Dorsey, earned $55 million as profit from Bitcoin transactions in the second half of the year. The company intends to make the Cash App available to more users by acquiring Australian fintech Afterpay in a $29 billion deal.
Square Generates Over $2 Billion In Bitcoin Revenue
  Square, the payment company owned by Twitter boss Jack Dorsey, reported its second-quarter earnings yesterday. According to the shareholder letter released yesterday, the payment company stated that it generated $2.72 billion of Bitcoin revenue for the second quarter this year.
  The revenue generated came despite the cryptocurrency market now in a bearish cycle. Square added that of the $2.72 billion generated in revenue, $55 million was the profit. The revenue generated by Square in the second quarter of the year is lower than the first quarter. In Q1, Cash App made $75 million in bitcoin gross profit on $3.51 billion BTC revenues.
  The decline in Cash Apps Bitcoin revenue came as the cryptocurrency market experienced a bearish cycle. In recent weeks, the prices of most cryptocurrencies have dropped by nearly 50%.
  Bitcoin, the leading cryptocurrency, saw its price drop by over 40% from its all-time high. BTC was trading close to the $65k region in April. However, it dropped to the $30k level in June and July before recently reaching the $40k level again last week. At the time of this post, Bitcoins (BTC) price is down by 5.5% over the past day and is trading just above $39k.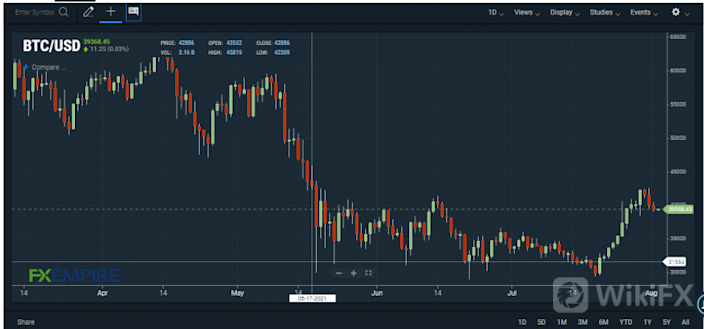 Square To Acquire Australian Fintech Afterpay
  The payment company announced in a separate press release that it would be acquiring Australian fintech company Afterpay. The deal is reportedly worth $29 billion, and it would allow Square to provide its services to more clients globally.
  Afterpay is a payment platform that makes it possible for users to receive products first and pay at a later date. The users can also pay in installments with additional interests attached. According to the company, it currently has over 16 million users.