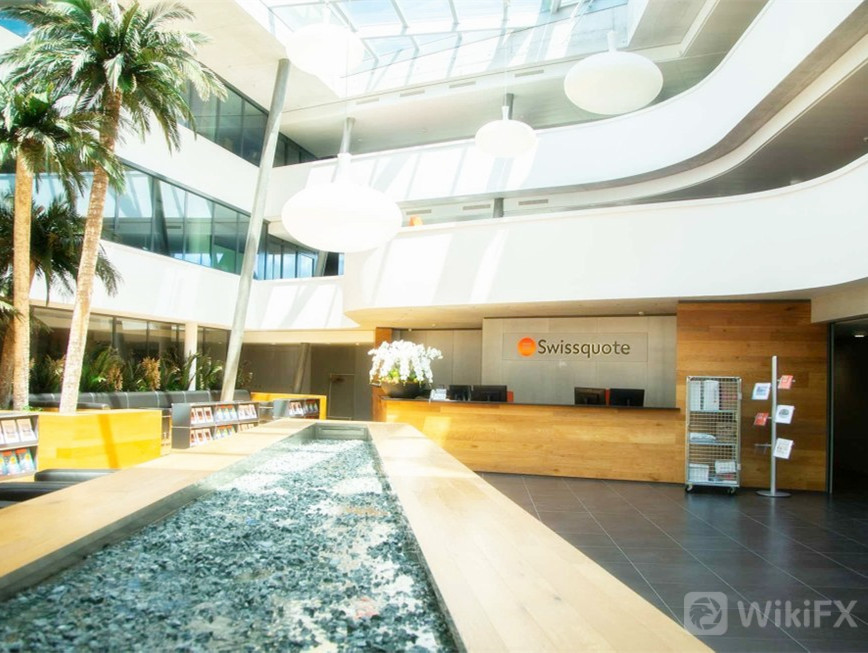 After pre-announcing in mid June that it was going to have a record first half on both the top and bottom line, Switzerland online broker Swissquote released its actual results confirming its earlier announcement.
  Following the trend of the year 2020, Swissquote (SWX:SQN) said it surpassed its initial forecasts in the first half of 2021. Overall, Swissquote recorded net revenues of CHF 264.4 million and a pre-tax profit of CHF 134.6 million. Compared to the prior-year period, net revenues increased by 64.5 percent and pre-tax profit by 130.4 percent. In the six month period, 49,552 new client accounts were opened and net new money inflow was CHF 4.9 billion. As of 30 June 2021, client assets reached a record level of CHF 50.2 billion. For the full year 2021, Swissquote is now targeting net revenues of CHF 465 million (initially: CHF 365 million) and a pre-tax profit of CHF 210 million (initially: CHF 130 million).
  Swissquote reported total eForex client trading volumes of CHF 816.4 billion in the first half of 2021, which translates to USD $150 billion in monthly trading volume – also an all-time high for the firm.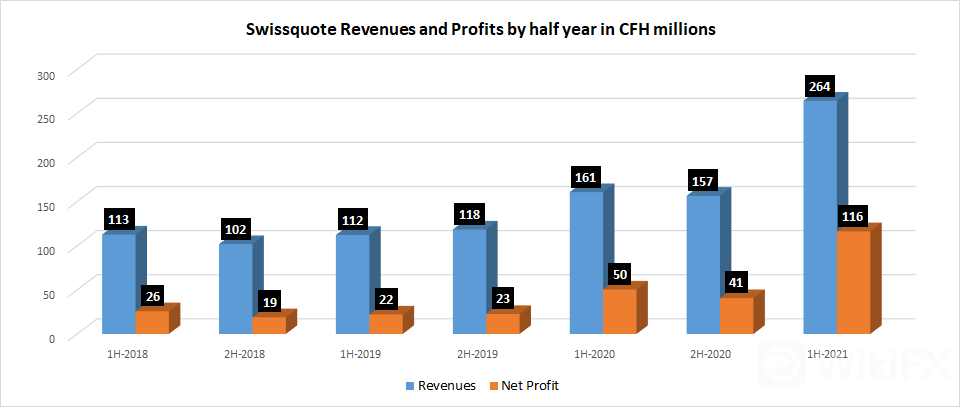 Operating revenues reached a total of CHF 266.4 million – an increase of 63.7 percent compared to the previous year (CHF 162.7 million). When adjusted for negative interest rates (–CHF 2.4 million) and fair value adjustments (CHF 0.4 million), net revenues amounted to CHF 264.4 million, up 64.5 percent from CHF 160.7 million.
  Fuelled by strong client and asset growth but also thanks to favourable market environment, trading activity was strong in all business areas and asset classes. Compared to the prior-year period, net fee and commission income climbed by 10.9 percent to CHF 87.1 million (CHF 78.5 million). Net crypto-assets income increased by 1,205.2 percent to CHF 63.2 million (CHF 4.8 million). The first half of the year has seen institutions further adopt crypto-assets and bitcoin at levels reaching all-time highs. The strong trading activity across all asset classes resulted in a positive impact on net trading income, which also rose sharply by 1,446.0 percent to CHF 42.6 million. Net eForex income increased by 4.9 percent to CHF 63.0 million (CHF 60.0 million) on eForex volume of USD 816.4 billion (+18.3 percent). The interest business (CHF 10.5 million, down by 36.9 percent) continued to be characterised by a low interest rate environment, as the leasing business is not expected to reach critical size before next year.
  At CHF 129.3 million, operating expenses were 26.9 percent higher than in the previous year (CHF 102.3 million). This rise is due to higher personnel expenses (+CHF 20.2 million), which increased mainly because of accruals for variable remuneration and more than 50 temporary positions hired to cope with the large number of customer requests.
  Pre-tax profit rose by 130.4 percent to CHF 134.6 million (CHF 58.4 million), while the pre-tax profit margin reached 50.9 percent (36.4 percent). At CHF 116.4 million (CHF 50.4 million), net profit was up 130.9 percent year-on-year, with a net profit margin of 44.0 percent (31.4 percent). The Basel III capital ratio is now at 24.3 percent (20.8 percent, +16.8 percent). Total equity increased by 32.2 percent to CHF 544.0 million (CHF 411.4 million).
  Net new money inflow hit a new record and came in at CHF 4.9 billion (H1 2020: CHF 3.0 billion). More than 40 percent of this purely organic growth was achieved with international customers. With the combination of positive markets, client assets grew by 50 percent to CHF 50.2 billion (CHF 33.5 billion). At the same time, the average deposit per customer continued to increase to CHF 109,265 (+29.3 percent) confirming Swissquotes position as a partner of choice for mass affluent customers.
  In the field of crypto-assets, Swissquote continued to enlarge its offering for retail and institutional customers. With more than 20 cryptocurrencies and CHF 1.9 billion in crypto-assets under custody, Swissquote is the bank with the most comprehensive offering in Switzerland and in Europe. On 1 August 2021, the new Federal Act on the Adaptation of Federal Law to Developments in Distributed Electronic Register Technology (DLT Act) fully entered into force in Switzerland. This law increases legal certainty and makes Switzerland a pioneer country in the field of crypto-assets and blockchain technologies.
  As of 1 January 2022, Luzerner Kantonalbank (LUKB) will be Swissquotes exclusive distribution partner for mortgages. The two banks have already been in a partnership since May 2021 for the distribution of actively managed certificates. In the medium term, both partners aim to seek further opportunities for strategic cooperation.
  On 11 May 2021, Swiss mobile finance history was written when Swissquote and PostFinance launched the new digital finance app "Yuh". The 20,000 active customer mark was reached two months after launch and growth continues as planned. Swissquote is very proud of this success, as well as of the overwhelmingly positive reception of the new app.
  - END –